<---------[NEW] nBinder 5.5 PRO [DOWNLOAD]------->
03-01-2011, 04:26 PM
#1
nBinder 5.5 PRO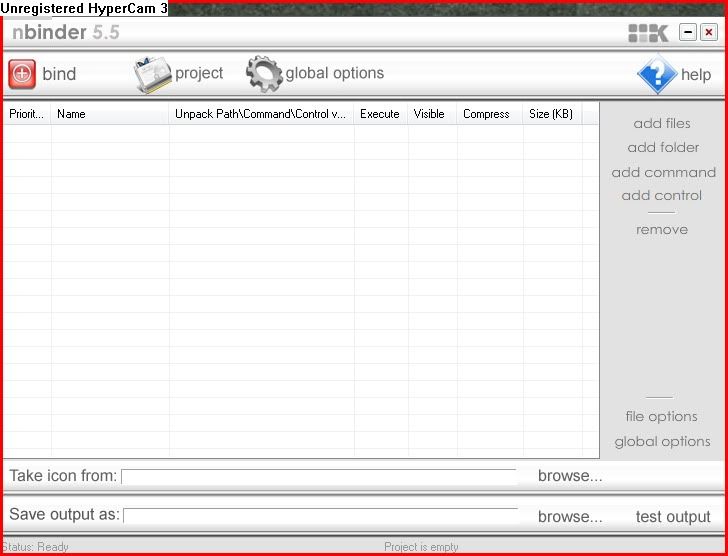 Features:
* Can be used to pack (compress, encrypt and protect) dll's and other resource files that might be needed by executables, for a more compact and fast distribution, into a single stand alone executable file. It doesn't modify files in any way, it unpacks them to their initial state and then it launches them.
* Handles an unlimited number of files.
* Save and Load projects along with file options and commands for a faster work flow.
* Supports repetitive and conditional sequences along with event schedule, all using Controls and Conditions.
* Advanced compression algorithm offers a very good compression ration and at the same time a very fast decompression.
* Can compress executables to make it harder to reverse engineer or hack.
* Can encrypt files to make it almost impossible ot extract them using hack methods.
* Complex system, file, and registry Commands that can be added to projects to increase the functionality of your files.
* Can add and use URL files (addresses to files on the Internet that are downloaded when the output file is launched and are handled as normal files).
* Extract icon and version information for the output file from other applications (EXEs), DLL files, and ICO files.
* Can show the progress of the unpack process for each file and the total progress by using the Progress Window option from Global Options.
* Password Protection for the output file to restrict access to the binded files. Strong password protection: the password is not stored in the output file, only a hash check is. You can add a password for RUN or/and Unpack.
* Can set individual options for each file in the project along with Global options affecting all files in the project.
* Supports directory structures for unpacking files.
* Can send different command line arguments to each file in the project. It also supports special values.You can send the arguments from the output to any file in the project. (C:\<output file name>.exe <arguments>).
* Can remove unpacked files either after all EXEs in the project close or at next boot. You can also leave the files on the hard disk.
* Can handle multiple files or a single file per project.
* Can create project only with commands and controls, with no files.
* Unpack binded files either from within nBinder(Project->Unpack output file) or by command line with the output file (C:\<file_name>.exe /unpack /<destination path>).
* Start the password protected bound files by sending the password in the command line (C:\<output file name>.exe /pass /<password>) when you launch the output.
* Can add a protective measure to your application by selecting the self delete option so that the application (output) will delete itself right after it will run, preventing user to rerun application.
* The folder in which the files are unpacked can be protected so that no other application can access the folder or the files inside.
* Can use special keywords like %TEMP%, %DATE% and other to specify special folders and special system parameters fro commands, controls, unpack paths and command line arguments.
* Other special keywords are used to get system information at runtime like the date, time, user name, the command arguments used when the output file was launched and more.
* Select a level of compression for each file in the project when you compress files in the project, select to which folder should each file be unpacked to, the name of the file (should be kept the same for dlls), the order in which they should be executed, if they should be visible at start, and if the files should be removed after run or at the next boot.
* User friendly interface includes hints and help that explain features and also explains how to use them.

Virus Scan Results
Click Here


Download