[FREE] iSpy Steam Stealer | Auto-Spreader | Simple and efficient | Noob-friendly
11-29-2014, 01:52 AM
#1
I am releasing a free steam stealer so you do not have to spend $50 on them anymore!
I reverse engineered some Russian malware and created a builder out of it for members of Sinisterly to use!
•Enter your Steam64, OfferID, and OfferToken to recieve items
•Custom message that will send to all contacts on the steam friends list
•Not FUD, however most steam stealers that say they are FUD might just be detected at runtime which is why they do not get good results. I do recommend a crypter which will make this undetected.
•This builder is extremely simple and took around 30 minutes to make, please give feed back on what you think of this software!
Download Link:
http://www.mediafire.com/download/dsb6jc...on+1.0.rar
Password:
venomousnet@HF
Virus Scan:
https://nodistribute.com/result/GnqzmXRoK9
https://www.virustotal.com/en/file/2a787...416366120/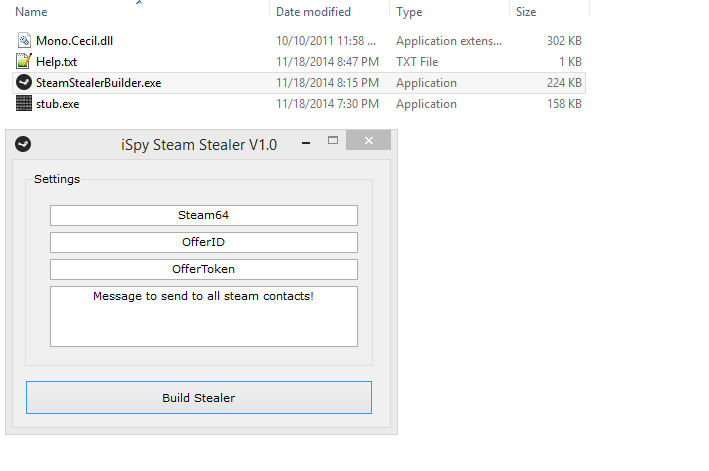 This is how to obtain offerID and offerToken
Go to your inventory, click new trade offer and then who can trade with me.
Follow the picture. Also, make sure your inventory settings are public.
WE ARE ..::Viruz Mafia::..